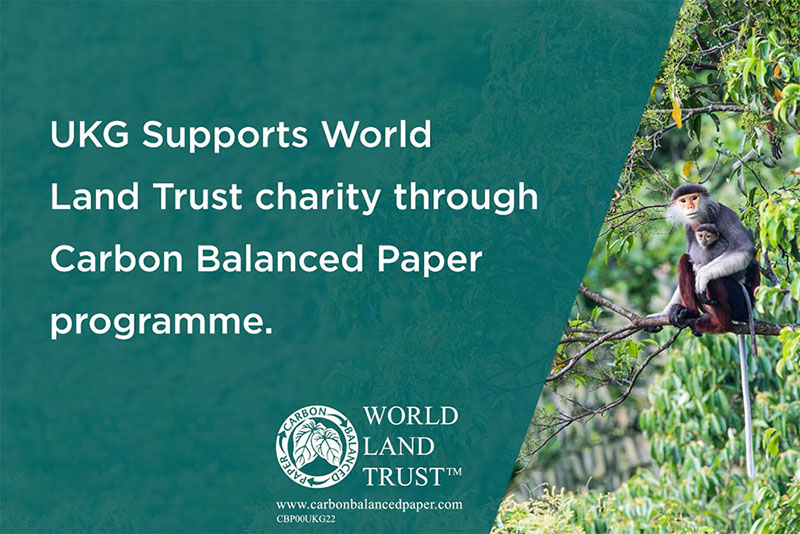 As the World comes together to celebrate World Environment Day, UKG are proud to announce a new partnership with the World Land Trust supporting their Carbon Balanced Paper programme.
The move, one of the largest commitments to date under the Carbon Balanced Paper programme, will offset close to 10,000 tonnes of CO2e relating to the manufacturing of the board used to produce UK Greetings' 200m cards per year.
Chris Shaw, Head of Sustainability at UK Greetings, says, "UKG is committed to reducing our impacts in every aspect of our business. Since 2019, we have removed over 250 tonnes of single use plastic from our cards and reduced our carbon footprint by 400 tonnes simply by improving our energy efficiency. With paper being our primary raw material, we work closely with our suppliers to help ensure that every single card and paper product can be physically traced back to sustainably managed forests. Choosing Carbon Balanced Paper was therefore a natural next step in our sustainability journey. We are thrilled to support World Land Trust in their efforts to protect the world's most biologically significant and threatened habitats."
By choosing Carbon Balanced Paper, UK Greetings will fund the protection of 635 acres of threatened habitat in the Khe Nuoc Trong region of Vietnam.
World Land Trust's largest Carbon Balanced project, Khe Nuoc Trong, is spread over 52,000 acres in the Annamite Mountain Range of North-Central Vietnam. A precious remnant of biodiverse tropical forest in a land blighted by deforestation, Khe Nuoc Trong provides a sanctuary for a rich array of threatened wildlife, including Critically Endangered species like the Sunda Pangolin, Red-shanked Douc Langur, and one of the world's rarest large mammals: the Saola, or "Asian unicorn".
Dan Bradbury, Director of Communications and Development, World Land Trust, says, "WLT works with a network of local partners around the world – currently in 20 countries – to save, protect and restore critically threatened habitat for wildlife, and in doing so, lock up carbon and address climate change. WLT has been saving land to save species for more than 30 years, and today our work to protect existing tropical forest habitat is more urgent than ever to save what remains of these vital ecosystems for wildlife. We couldn't do any of it without the help of our amazing supporters, and we thank UK Greetings for their commitment."
​​​​​​​​​​​​​​As UKG approach the 5th June, World Environment Day, an international day of environmental awareness and action it is incredibly exciting for everyone at UKG, and for our customers, to learn of the vital work of the World Land Trust and of the projects we are helping to fund together with the restoration work that is needed to protect our planet for today and tomorrow.
"The money that is given to the World Land Trust, in my estimation, has more effect on the wild world than almost anything I can think of." Sir David Attenborough